The World Triathlon Championship Series' races will be held for the 6th time in Montreal.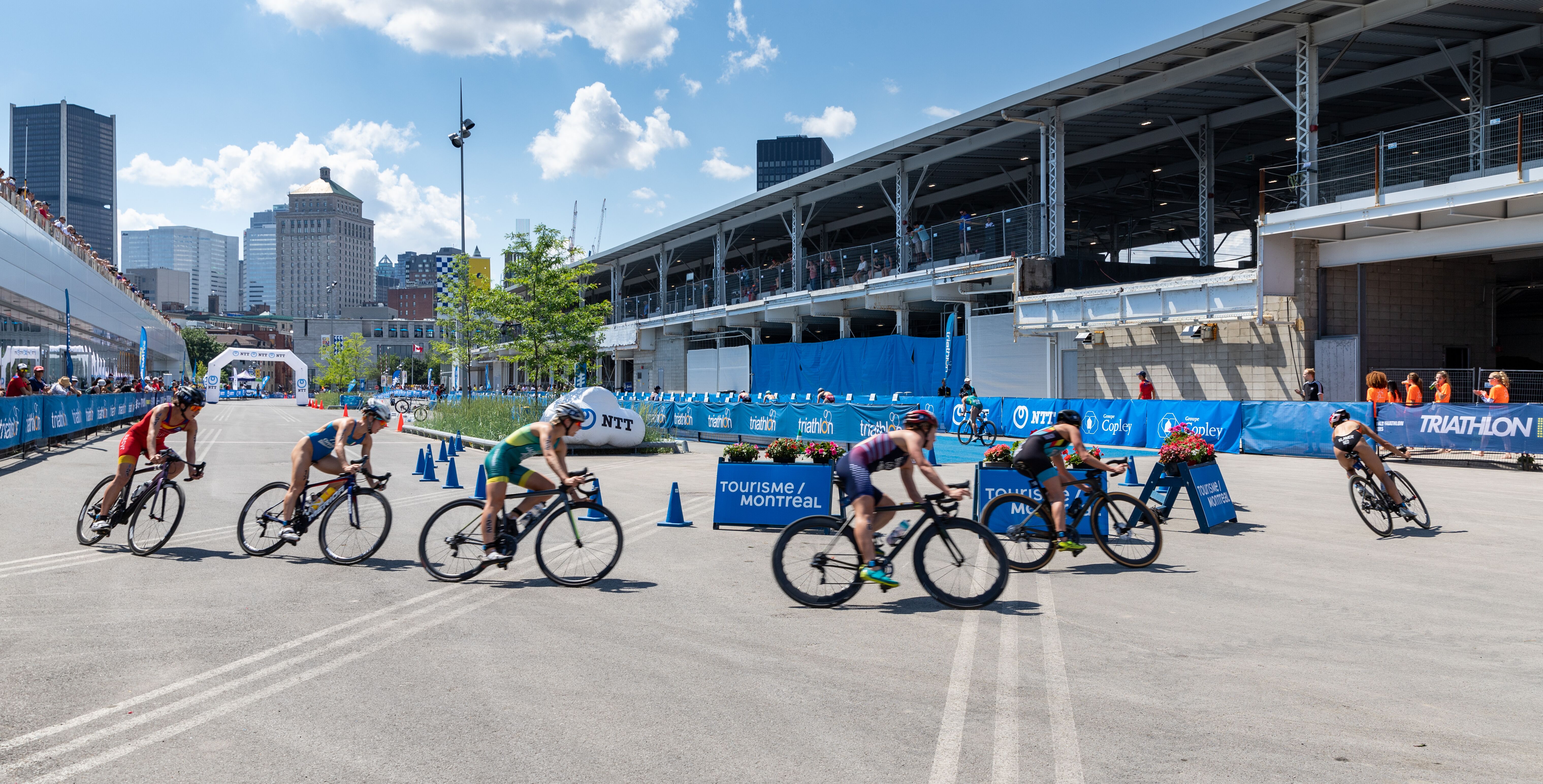 Venue
The main venue of the Groupe Copley World Triathlon is the Port of Montreal's Grand Quay.
Race format
The Eliminator is an intense new format that takes place across two days and over a super-sprint course: 300m swim, 7.2km bike, 2km run.
Up to 60 athletes will be drawn in two qualifiers on day one. The top ten from each race will progress through to the next day, along with ten more from the repechage races for those who did not make the cut (the top ten in the case of a single repechage, the top five of each in the case of two).

All 30 athletes classified for the final round will then line up on day two to battle it out for gold over three more super sprints.

At the end of the first race, the last ten across the line will be eliminated. At the end of the second, the final ten will also be eliminated. The last race of the weekend will see the remaining 10 athletes race for gold in a dramatic finale.
Thighs will be sore! Who will have the strength and the strategy to make it to the end?
Schedule
Friday, June 24th 2022
07h30 : Age Group Women's Sprint World Championship
11h00 : Junior Women's Sprint World Championship
13h00 : Elite Women's Supersprint - Qualifier wave 1
13h40 : Elite Women's Supersprint - Qualifier wave 2
15h00 : Elite Men's Supersprint - Qualifier wave 1
15h40 : Elite Men's Supersprint - Qualifier wave 2
17h00 : Elite Women's Supersprint - Repechage wave 1
17h40 : Elite Women's Supersprint - Repechage wave 2
19h00 : Elite Men's Supersprint - Repechage wave 1
19h40 : Elite Men's Supersprint - Repechage wave 2
13h - 17h : Age Group Men's Bike Check In (Mandatory)
Saturday, June 25th 2022
07h30 : Age Group Men's Sprint World Championship wave 1 (M45+)
08h25 : Age Group Men's Sprint World Championship wave 2 (M45-)
12h00 : Junior Men's Sprint World Championship
14h00 : Elite Women's Supersprint World Championship Final - Stage 1 (30)
14h40 : Elite Women's Supersprint World Championship Final - Stage 2 (20)
15h20 : Elite Women's Supersprint World Championship Final - Stage 3 (10)
16h40 : Elite Men's Supersprint World Championship Final - Stage 1 (30)
17h20 : Elite Men's Supersprint World Championship Final - Stage 2 (20)
18h00 : Elite Men's Supersprint World Championship Final - Stage 3 (10)
Sunday, June 26th 2022
07h30 : Age Group Mixed Team Relay World Championship wave 1 (X50+)
10h15 : Age Group Mixed Team Relay World Championship wave 1 (X40-)
14h00 : Junior/U23 Mixed Team Relay World Championship
16h45 : Elite Mixed Team Relay World Championship
World Championship Series - Eliminator Format - 300m / 7.2km / 2km
Blue = swim course : 300m (1 lap counter-clockwise)
Yellow = bike course : 7.2km (3 laps of 2.4km)
Red = run course : 2km (2 laps of 1km counter-clockwise)
Green = Transition Area
World Championship Series - Bike course - 7.2km (3 laps of 2.4km)
Yellow = bike course : 7.2km (3 laps of 2.4km counter-clockwise)
World Championship Series - Mixed Team Relay - 300m / 6.6km / 2km
Blue = swim course : 300m (1 lap counter-clockwise)
Yellow = bike course : 6.6km (2 laps of 3.3km)
Red = run course : 2km (2 laps of 1km counter-clockwise)
Green = Transition Area
World Championship Series - Mixed Team Relay Bike course - 6.6km (2 laps of 3.3km)
Yellow = bike course : 6.6km (2 laps of 3.3km counter-clockwise)