The importance of the little things (part 1)
When people ask me about my sport, there are two questions/comments that come up very often: 1) In which order do I practice the three disciplines (swimming, biking and running)? and 2) How lucky I am to travel and discover the world thanks to the competitions in which I compete. However, there is so much more behind the three demanding disciplines that triathlon involves. This first part is entitled "The importance of the little things", because the benefits related to those details have become essentials over the years for my well-being and for my performances during competitions.
When I was younger, I did not really like going to the gym to train. Indeed, I could not understand the usefulness of these exercises and I could not imagine working out to have big arms or killer legs. However, I met a specialist later on who took the time to observe my training. He was able to identify my weaknesses by asking me to perform basic muscle exercises. Following his analysis and based on the results obtained, he was able to build me a muscle reinforcement plan containing varied exercises targeting small muscles that I had never worked before. I realized that as the training load was increasing, my body was getting more fatigued and the risks of injuries were increasing. This is something I absolutely want to avoid. As they say, prevention is better than cure!
Indeed, these exercises that seemed minor details initially are now today extremely important for me. Since that time, I make sure to execute properly the training plan established for me by a specialist whom I consult from time to time in order to know if I need to modify the plan or reach a higher level.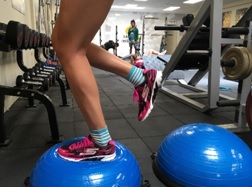 This way, when my competitive season begins, I make sure to always execute well the movements without putting too much weight. By doing so, I keep my muscles awake without making them work too hard. It's now a routine that is well integrated in my daily life and it makes me stronger during my swimming, biking and running trainings!
And you, what are those little things that make a difference in your training and for what reasons?
Good training!
Elie