How to polish your swimming technique ?
Here are a few tips, with photographs, that will allow you to polish your swimming technique.
1) The key to a good traction is to execute a good rotation of the body along its axis. This allows you to be hydrodynamic and to fetch a lot of water at the front. Your torso and your pelvis have to turn at the same time for every traction.
2) When your arm is out of the water, your elbow must be higher than your hand. This allows your hand to enter the water with the right angle.
3) Your fingers enter the water first, followed by your forearm and your elbow.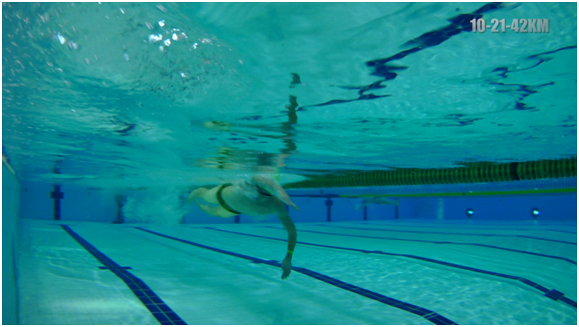 4) When your hand enters the water, you have to extend your arm forwards to fetch as much water as possible. This will allow you to have an efficient traction.
5) After extending your arm forwards, it creates the traction by pushing the water backwards. This is the most important phase of the movement, because it allows you to propel yourself forwards.
6) Finally, continue the movement by pushing your hand up to your hip in order to maximize the traction.
If you follow these steps, you will definitely improve your efficiency in the water! Good swimming!
Antoine Jolicoeur-Desroches